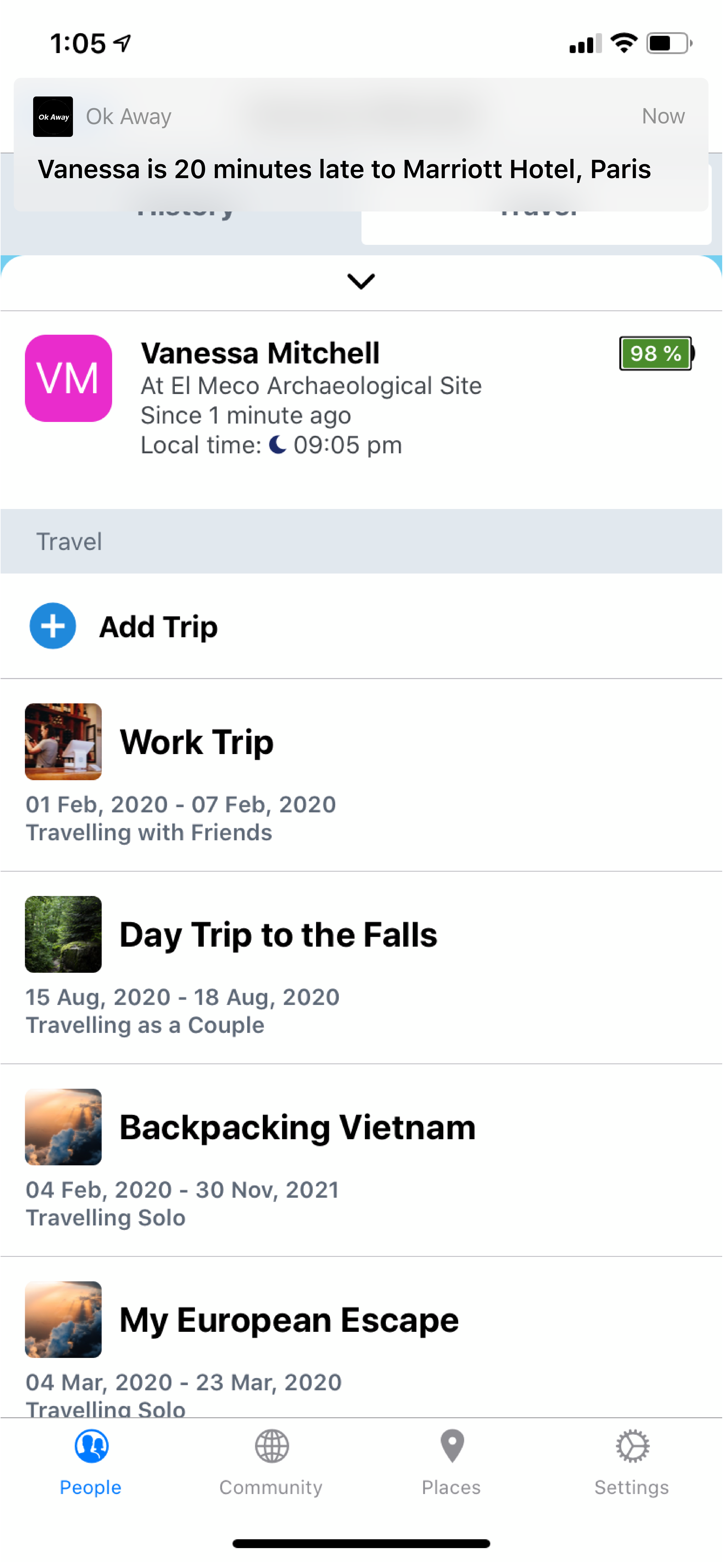 Location Sharing

⚬ View mapped location, travel history and local time of the people you care about.

Travel Plan Updates

⚬ Receive an alert when a new itinerary is created for long haul journeys, day trips or a night out in town.

⚬ Notifications sent for arrival, departure or failure to arrive at key destinations.

⚬ Store travel insurance details and other information such as contacts for new travelling companions that family can access.

Smart Notifications

⚬ Create place alerts for others and receive notifications when they arrive or leave any world location.

⚬ See current battery levels for all connections and receive an alert if battery levels are running low.

⚬ Easily control your privacy, notifications and location sharing.
Next level safety
Travel warnings
⚬ All members will receive travel warnings for their own location and the location of their follower's.
⚬ Alerts can be easily controlled in the apps settings.
Inactivity alert
⚬ Receive an alert if your family or friends have been inactive on their phone for more than 14 hours.
Missing traveler alert
⚬ Too often, it is days or weeks before the search for a missing traveler begins. Ok Away provides a lifeline of data location, travel history, plans and contacts.
⚬ If a loved one is reported missing, an alert will be sent to our app community members in that area and details will be shared on the community map.
⚬ We will further engage locals and travelers through our Missing Pages Initiative and social media ad campaigns.
It's the best way to connect with family overseas.You can see the local time and view where they are, to work out if it's a good time to call.
Merv Chessells
Love the fact the app does the work for you. You can get on with your day and receive notifications when your child leaves university and makes it home safe on the other side of the world.
Andrea Speed
For peace of mind, I think the inactivity alert, travel warnings and the notification to let you know if your family has not turned up to a place is priceless.
Vanessa Barrington
I think it's a great to connect and feel closer to your family and friends while they are travelling. I like the idea of setting up place alerts for all the major tourist attractions they are visiting, so we can kind of experience it together.
Fiona Sofra
I think it's a great way to connect with other friends who are travelling. I can see when they have logged a new trip and where they are going. And I can create alerts to know when friends arrive at my current venue or town.
Kayla Spies
The Ok Away App has given me peace of mind. I know exactly where my loved ones are, no matter where they are in the world. My parents are older now, so it's nice to check in with them too.
Hilma Fitzgerald
Ok Away offer a range of travel safety items, which make terrific gifts and provide added protection for family and friends heading abroad. Part of our proceeds, go directly towards supporting our Missing Pages Initiative and the Ok Away App.
Solo Travel is booming and that will only increase post pandemic. Taking a trip alone can be very liberating.
With the choice of solo travel tours and group trips available now, you also have the option to travel solo with like-minded people.

The Ok Away app provides a great way for solo travelers to stay in touch with family and friends, share their trip and keep informed about safety issues whenever they travel.
Over 5 million students every year chose to complete their tertiary education in a foreign Country. Moving to another Country to study is a big, but normally rewarding decision.
To reduce health and safety concerns and homesickness, OK Away helps keep international students safe and connected to family and friends while apart.
As we return to travel, more students may choose to take a gap year. A gap year is a break taken before or after University or College where students work abroad, volunteer or travel.
During this time students get to learn more about the world and reflect on where they are going with their studies.
With an app like Ok Away, gap year students can keep safe and connected to family back home.
Digital nomads use technology to earn a living while on the road. With their nomadic lifestyle they can adapt to working remotely in foreign Countries, coworking spaces or recreational vehicles.
For these tech savvy, van life wanderers, Ok Away allows them the freedom of regular family safety check-ins, without needing to text or call.
There are many volunteer abroad programs to choose from around the world. Volunteers can choose to support communities in developing Countries or work on projects to help assist disadvantaged children, the environment or endangered species to name a few.
Check with Volunteer Abroad Programs directly, many do not require volunteers with qualifications or skills. Volunteering abroad is a great way to travel and experience another culture, while contributing to a worthy cause.
Budget travellers looking to explore the world on a shoestring find Ok Away a handy app to help share their adventures with family.

While travelling for leisure and living the backpacker life, it's easy for backpackers to become focused on plans and enjoying their trip.
Ok Away sends important information to followers with your location, local time, arrival and departure notifications, history, inactivity and local travel warnings.
Outdoor Adventure and Sports
Ok Away is a terrific app for the outdoor explorer and adrenalin junkie. Ok Away displays mapped information of where you are and where you've been, a great safety feature for hikers, skiers and campers.
Take Ok Away with you next time you go hiking, skiing off-piste or are planning a camping trip away.